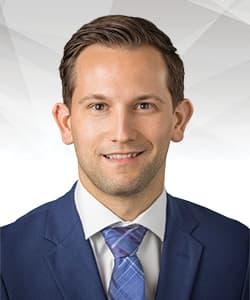 Zachary C. Bailey, M.D.
Specialties:
Back, Neck, Spine
Fellowship
As a fellowship-trained orthopedic spine surgeon, Dr. Zachary Bailey is dedicated to helping his patients overcome neck and back pain and their spine-related problems. Offering the highest level of specialized spinal care, he will work closely with you to develop a straightforward treatment plan that fits your goals and needs to get you back to a quality of life you enjoy.
Dr. Bailey graduated from the University of Nebraska–Lincoln with a Bachelor of Science degree in biochemistry before going on to complete his medical degree and orthopedic residency at the University of Nebraska Medical Center in Omaha. He was then selected for a fellowship at the University of Washington/Harborview Medical Center in Seattle, where he completed an additional year of specialized training in orthopedic spine surgery.
In his practice, Dr. Bailey starts with nonsurgical treatment whenever possible. If surgery is needed, he uses the least invasive methods necessary to achieve the desired outcome. He enjoys getting to know his patients and working with them to develop a straightforward treatment plan to get them back to a pain-free, active lifestyle.
Outside of his practice, Dr. Bailey enjoys spending time with his family, traveling, photography, hanging out at the beach, watching the Cincinnati Bengals, and being outdoors biking, running, hiking, skiing, and gardening.
Dr. Bailey is available to see patients with back, neck, and spine issues at our North Myrtle Beach office.
Credentials

Education & Training

Bachelor of Science in Biochemistry: University of Nebraska–Lincoln, Lincoln, NE
Doctor of Medicine: University of Nebraska Medical Center, Omaha, NE
Orthopedic Surgery Residency: University of Nebraska Medical Center, Omaha, NE
Orthopedic Spine Surgery Fellowship: University of Washington/Harborview Medical Center, Seattle, WA

Professional Associations

Alpha Omega Alpha Honor Medical Society
American Academy of Orthopaedic Surgeons
AO Spine North America
Phi Beta Kappa Society

Hospital/Surgery Center Affiliations

Carolina Bone & Joint Surgery Center
Grand Strand Medical Center
McLeod Health Seacoast

Medical Interests

Treatment of Neck and Back Pain
Nonoperative Treatment of Spine Conditions
Treatment of Arthritis and Degenerative Conditions of the Spine
Microdiscectomy for Disc Herniation
Laminectomy and Decompression Surgery
Treatment of Radiculopathy and Sciatica
Spinal Fusion
Spine Trauma and Fractures
Treatment of Spondylolisthesis
Navigated and Robot-Assisted Spine Surgery
Minimally Invasive Spine Surgery
Motion Preservation Surgery
Revision Surgery
Scoliosis
Locations

1621 Highway 17 North
North Myrtle Beach, SC 29582
Patient Reviews
News