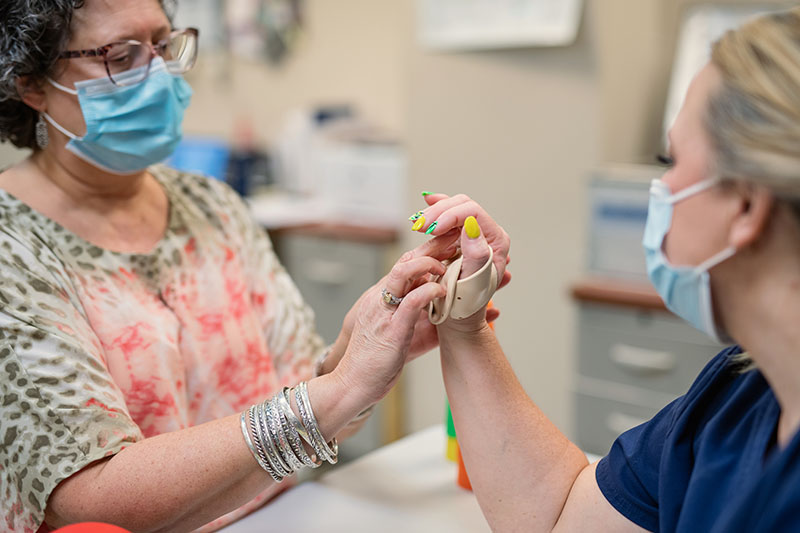 At OrthoSC, we know how vital hand function and the functioning of your entire upper limb are to your life. In addition to care and services through our specialty-trained hand surgeons, we proudly offer convenient, on-site hand therapy at our locations in Conway, Murrells Inlet, Myrtle Beach – Carolina Forest, and North Myrtle Beach, South Carolina.
Our OrthoSC certified hand therapists provide specialized hand and occupational therapy care to help you recover from injuries, conditions, and surgeries of the hand, elbow, wrist, and forearm.
Hand therapy can serve as a conservative treatment option or as part of a comprehensive treatment plan. Our hand therapists can assist you with a number of upper extremity conditions, including:
Carpal tunnel syndrome
Deformities
Dislocations
Fractures
Hand injuries
Inflammatory tendon conditions (such as tennis elbow)
Nerve injuries
Sports-related injuries
Sprains
Tendon tears
Working closely with your doctor or other providers, our certified hand therapists (CHTs) will create an individualized care program to help you feel better and regain strength and function as quickly and safely as possible. Our therapy staff also accepts outside referrals.
Using state-of-the-art modalities in upper extremity and hand rehabilitation, our hand therapists offer a wide array of treatment options to meet your needs, including:
Hand therapy
Industrial rehabilitation
Manual therapy (hands-on therapy solutions)
Occupational therapy and physical re-education
Pre- and postsurgical rehabilitation
Splinting and orthotics
Stretches and exercises for pain management and strength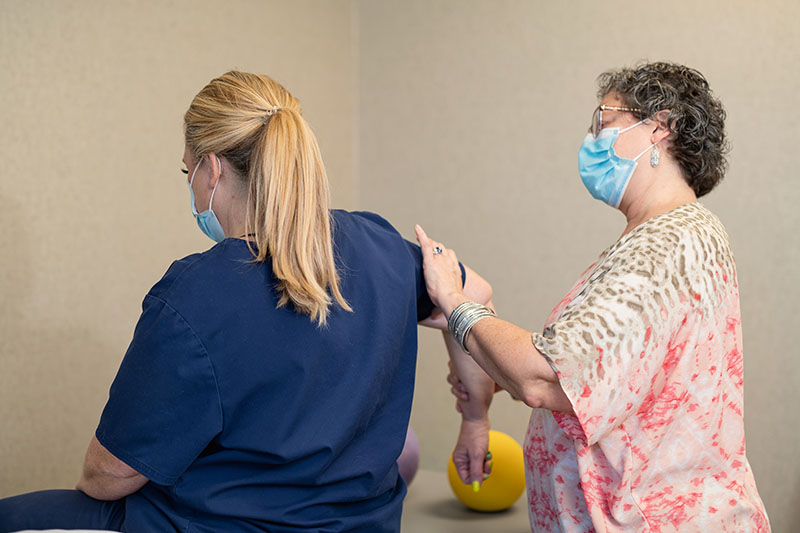 Our certified hand therapists are licensed, registered occupational therapists who are certified in the latest hand therapy techniques and treatments through the Hand Therapy Certification Commission. They also provide help and application with therapy products used for your treatment plan.
Our hand therapists have advanced clinical skills and experience to help patients restore strength to their upper extremity and return to their daily activities. Dedicated to patient-centered care, our therapy specialists spend one-on-one time with patients, learning their stories, their needs, and assisting our patients in their return to improved function.
Learn More About Our Therapists
Check Out Our Amazon DME Store
Our Hand Therapy Locations
Conway
2376 Cypress Circle
Suite 300
Conway, SC 29526
Murrells Inlet
3545 Frontage Road
Suite 250
Murrells Inlet, SC 29576
Myrtle Beach – Carolina Forest
210 Village Center Boulevard
Suite 100
Myrtle Beach, SC 29579
North Myrtle Beach
1621 Highway 17 North
North Myrtle Beach, SC 29582
To learn more about our therapy services or to schedule a therapy appointment, call (843) 353-3460.