VELYS™ Robotic-Assisted Solution

At OrthoSC, we are dedicated to delivering world-class care to keep the Grand Strand strong. As part of that dedication, we proudly offer robotic knee replacement with the simple, streamlined VELYS Robotic-Assisted Solution.
OrthoSC's joint replacement team proudly offers knee replacement using the VELYS Robotic-Assisted Solution at our advanced, outpatient surgical facility, Carolina Bone & Joint Surgery Center.
What Is VELYS?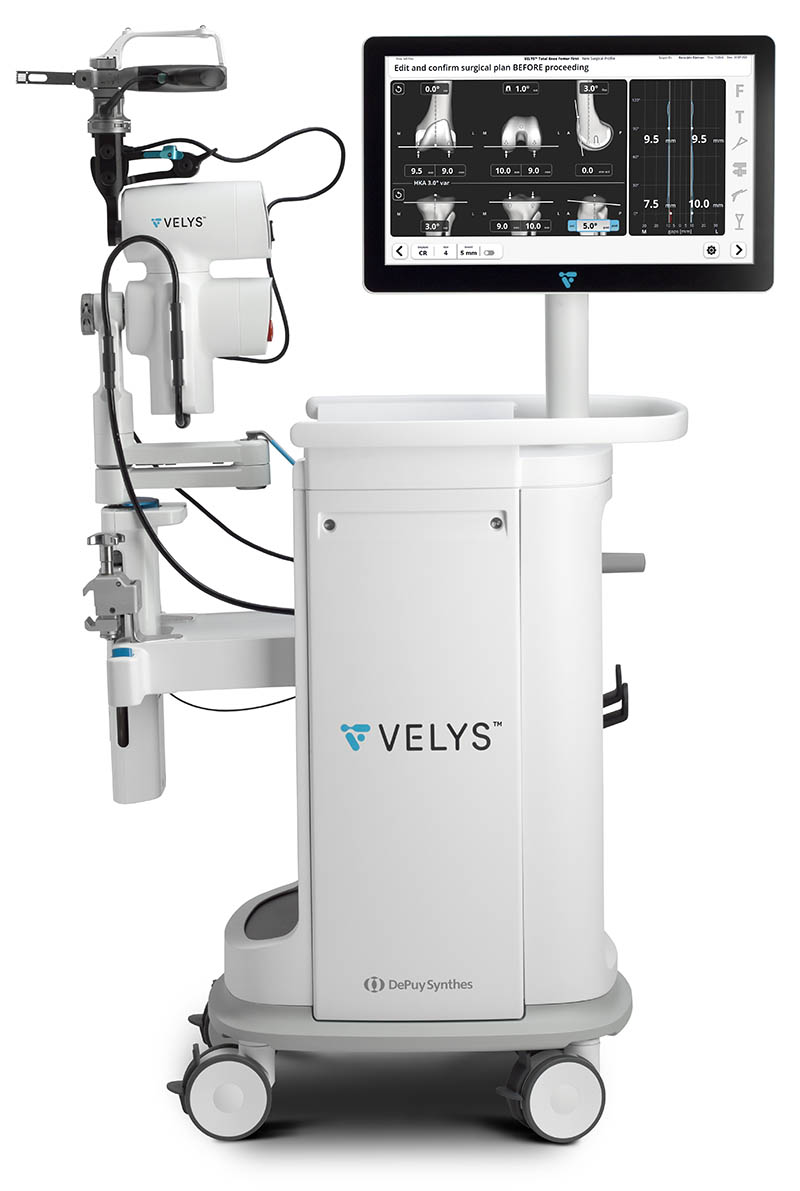 The first of its kind in the state and the only outpatient robotic joint replacement system in the region, the VELYS is built with the latest technology and is only available from OrthoSC.
Our specialty-trained joint replacement team at OrthoSC uses the VELYS robotic system to offer total knee replacement. The advanced system helps our surgeons tailor each procedure to the individual patient, providing a personalized experience before, during, and after surgery.
How Does VELYS Robotic Knee Replacement Work?
During surgery, the VELYS robot and integrated operating platform assist with the optimization and digital precision of cuts and implant placement. Your surgeon will use the robotic device to keep complete control of the procedure while using data that is unique to your knee's anatomy.
The system's technology also includes a special camera and optical tracking to provide real-time, exact information. This allows your surgeon to protect vital structures, minimize soft-tissue injury, and ensure proper alignment and joint balance.
What Are the Benefits of VELYS Robotic Knee Replacement?
The VELYS Robotic-Assisted Solution is designed for digital precision in knee replacement because every knee is different. The enhanced accuracy helps provide improved comfort and outcomes for patients who meet specific criteria.
Benefits of robotic-assisted knee replacement using the VELYS system include:
Potentially less pain and faster recovery than traditional joint replacements
Tailored surgical plans based on personal anatomy and accurate data for better joint stability
Safety and efficiency provided by the avoidance of hospital exposure and state-of-the-art joint replacement technology in the outpatient surgery center
Why Choose OrthoSC?
With specialized training and extensive experience in reconstructive joint surgery, our expert joint replacement surgeons at OrthoSC are devoted to delivering world-class total joint care to keep you strong. Whether you have been living with consistent knee pain for years or have knee joint damage that has worsened over time, our experts are here for you.
When you visit with one of our specialists at OrthoSC, they will guide you through the care options that are right for your needs and goals. From nonsurgical treatments and traditional procedures to the latest advances in joint replacement, our joint replacement team will provide the comprehensive care plan you need to return to doing what you love.
For a consultation with a member of our specialty-trained joint replacement team at OrthoSC to see if VELYS robotic knee replacement is right for you, call (843) 353-3460 or make an appointment online.