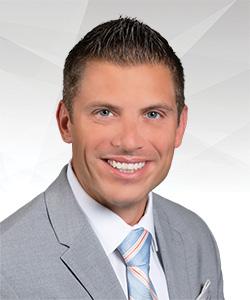 Joshua R. Gore, M.D.
Specialties:
Back, Neck, Pain Management, Spine
As a board-certified anesthesiologist, Dr. Joshua Gore provides nonoperative care for his patients' acute and chronic aches, pains, and nerve-related needs. Dr. Gore specializes in pain management and interventional spine care, and his expertise includes a range of treatments, including injections, nerve blocks, and neuromodulation therapy.
Dr. Gore completed his undergraduate studies at The University of Oklahoma in Norman. He later earned his Doctor of Medicine degree from The University of Oklahoma College of Medicine in Oklahoma City. There, he went on to complete his residency training in anesthesiology through the University of Oklahoma Medical Center. He is also board-certified in anesthesiology through The American Board of Anesthesiology.
In his practice, Dr. Gore understands that every person brings a unique set of circumstances that present different challenges. That is why he makes sure to tailor treatment plans to help each of his patients achieve the best results. Additionally, Dr. Gore takes a holistic approach to medicine that includes multiple treatment modalities and comprehensive care.
Dr. Gore is available to see patients with back, neck, spine, and pain-related needs at our North Myrtle Beach office.
Credentials

Education & Training

Bachelor of Science in Zoology: The University of Oklahoma, Norman, OK
Doctor of Medicine: The University of Oklahoma College of Medicine, Oklahoma City, OK
Anesthesiology Residency: University of Oklahoma Medical Center, Oklahoma City, OK

Certification

The American Board of Anesthesiology

Professional Associations

American Society of Anesthesiologists

Medical Interests

Epidural Steroid Injections
Facet Blocks
Facet Joint Syndrome
General Musculoskeletal Medicine
Hip Joint Injections With Fluoroscopy
Lumbar Epidural Injections
Lumbar Facet Joint Blocks
Lumbar Radiculopathy (Sciatica)
Lumbar Radiofrequency Neurotomy
Lumbar Selective Nerve & Sympathetic Blocks
Lumbar Transforaminal Epidural Steroid Injections
Medial Branch Block
Neck & Back Pain
Neuromodulation Therapy
Nonfracture Joint Care/Orthopedics
Radiofrequency Ablation (RFA)
Sacroiliac Joint Steroid Injections
Spinal Cord Stimulator Trials
Trigger Point Injections
Locations

1621 Highway 17 North
North Myrtle Beach, SC 29582
Patient Reviews

"Dr. Gore was very attentive to my needs, listened to my aches and pains, and had a wonderful attitude. He will help me feel better with the treatment that he will be giving me."

Patient Rating:
News