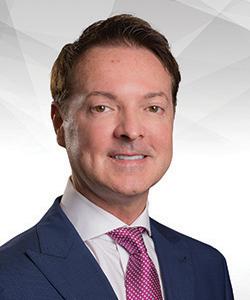 Scott B. Sauer, D.O.
Specialties:
Back, Knee, Neck, Pain Management, Spine
Fellowship
Dr. Scott Sauer received his medical degree from Michigan State University College of Osteopathic Medicine in East Lansing, Michigan. He completed an internship in medicine and surgery at Botsford Hospital in Farmington Hills, Michigan, and residency training in anesthesiology at Duke University Medical Center in North Carolina, which included extensive training in nerve blocks and neuraxial anesthesia. He completed a subspecialty fellowship in pain management at the Medical University of South Carolina in Charleston. Through his advanced training, Dr. Sauer has acquired knowledge, skills, and expertise in interventional procedures encompassing the treatment of all varieties of pain syndromes.
Dr. Sauer specializes in minimally invasive treatment modalities for spinal stenosis, sciatica, low back pain, neck pain, joint pain, and spinal pain of multiple origins. He also treats painful peripheral neuropathies, such as occipital neuralgia, painful lateral femoral cutaneous (skin) neuralgia, facial neuralgias, reflex sympathetic dystrophy (RSD or CRPS), and other intractable pain syndromes. In treating spine patients, he works closely with our spine surgeons to avoid or delay surgery as well as to make surgery more precise.
Dr. Sauer's practice focuses on individual patient treatment modalities utilizing evidence-based medicine and the newest techniques available. His practice specializes in complex pain syndromes and treating patients who have not achieved long-term success with other treatment options.
In his free time, Dr. Sauer stays active by running and enjoying the outdoors while sailing and boating. He is also a contributing editor at pain.com.
Dr. Sauer is available to see patients in need of pain management care in Myrtle Beach at our Carolina Forest Pain office.
Credentials

Education & Training

Bachelor of Science: Western Michigan University, Kalamazoo, MI
Doctor of Medicine: Michigan State University College of Osteopathic Medicine, East Lansing, MI
Medicine and Surgery Internship: Beaumont Hospital, Farmington Hills, MI
Anesthesiology Residency: Duke University School of Medicine, Durham, NC
Pain Management Fellowship: Medical University of South Carolina, Charleston, SC

Certification

The American Board of Anesthesiology
Subspecialty Certification in Pain Management: The American Board of Anesthesiology

Professional Associations

American Headache Society
American Pain Society
American Society of Anesthesiologists

Medical Interests

Interventional Pain Medicine
Nerve Blocks
Neuralgia
Peripheral Neuropathy
Reflex Sympathetic Dystrophy
Locations

210 Village Center Boulevard
Myrtle Beach, SC 29579

Suites 100 & 200 – Physical Therapy
Suite 120 – MRI
Suite 150 – Pain Management
Suite 200 – Orthopedics

Orthopedics, MRI & Pain Management Phone:

(843) 353-3460

Physical Therapy Phone:

(843) 712-7023

Orthopedics, MRI & Physical Therapy Fax:

(843) 236-3005

Pain Management Fax:

(843) 903-9032
Patient Reviews

"Dr. Sauer was very quick and answered all questions."

Patient Rating: