J. Christopher Gayton, M.D.
Specialties:
Hand, Elbow, Shoulder, Wrist, Joint Replacement
Dr. J. Christopher Gayton earned his bachelor's degree in cellular biology at the University of Georgia in Athens, Georgia. He then went on to complete his medical doctorate at the Medical College of Georgia – Georgia Regents University in Augusta, Georgia. Dr. Gayton completed an internship at St. Joseph Mercy Ann Arbor in Ann Arbor,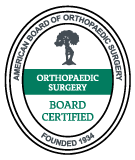 Michigan, and his orthopedic surgery residency training at Wright State University in Dayton, Ohio.
While in his residency, Dr. Gayton completed a research fellowship with Wright State University. Wanting to specialize further, he underwent hand and upper extremity fellowship training at Allegheny General Hospital in Pittsburgh, Pennsylvania.
Using surgical and nonsurgical techniques, Dr. Gayton has extensive training and experience in treating injuries and conditions of the hand, wrist, elbow, and shoulder, including carpal tunnel syndrome and arthritis of the hand, wrist, and shoulder. His surgical expertise includes elbow arthroscopy, wrist arthroscopy, shoulder arthroscopy, open and endoscopic carpal tunnel release, and total shoulder replacement.
When not seeing patients, Dr. Gayton enjoys waterskiing, hunting, snow skiing, and cheering on the Georgia Bulldogs. He and his wife are passionate about international medical missions, having served in the Philippines, Bangladesh, and Kenya. They were excited to set roots back in the Southeast with their two daughters.
Dr. Gayton is available to see hand, wrist, elbow, and shoulder patients in Conway.
Use the buttons below to learn more about the procedures Dr. Gayton specializes in:
Education & Training
Bachelor of Science in Cellular Biology: University of Georgia, Athens, GA
Doctor of Medicine: Augusta University Medical College of Georgia, Augusta, GA
Internship: St. Joseph Mercy Ann Arbor Hospital, Ann Arbor, MI
Orthopedic Surgery Residency: Wright State University Boonshoft School of Medicine, Dayton, OH
Research Fellowship: Wright State University, Dayton, OH
Hand and Upper Extremity Fellowship: Allegheny General Hospital, Pittsburgh, PA
Certification
American Board of Orthopaedic Surgery
Professional Associations
American Academy of Orthopaedic Surgeons
American Society for Surgery of the Hand
Christian Medical & Dental Associations
International Hip Fracture Research Collaborative
Team Affiliations
Aynor High School
Carolina Forest High School
Conway High School
Pittsburgh Pirates, 2014 – 2015
University of Dayton, 2013 – 2014
Wright State University, 2008 – 2014
Hospital/Surgery Center Affiliations
Carolina Bone & Joint Surgery Center
Conway Medical Center
Medical Interests
Arthritis of the Hand and Wrist
Arthroscopy of the Wrist, Elbow, and Shoulder
Hand Rehabilitation
Open and Endoscopic Carpal Tunnel
Shoulder Arthroplasty
Sports Medicine of the Upper Extremity
Conway

2376 Cypress Circle, Suite 300
Conway, SC 29526
"I was experiencing severe pain in my hands with significant swelling and having extreme difficulty performing my job as a chemotherapy infusion nurse. I called your office for an appointment and was given one for 6 days later. I thought that was great! Then the person I spoke with informed me about your Ortho Clinic offered  from 5-7pm Monday through Thursday. I went to the clinic that day and was seen by a provider and given a script for some steroids to help reduce the inflammation. I was impressed and pleased with Dr. Gayton and the treatment I received at my 1st appointment. I appreciated that he treated me with respect as a longtime medical professional-as a nurse for the last 41 years. That meant a lot to me.  My surgical procedure was conducted very efficiently with all parties involved being helpful and caring professionals. I'm still being followed by Dr. Gayton and receiving some hand therapy at Coastal Rehab.  So far I'm happy to say that my experience with Coastal Orthopedics has been great and I have shared it with some friends and acquaintances and recommend your practice to them. Thank you for all you do."
Our offices will be closed on Monday, May 27th for Memorial Day.
x